The life of a boat, like that of other vehicles or products, depends on care and affection throughout the year. It is very easy to say, but it is of little use if it is not done well. So let's take a closer look…
In Nautica Marina Alta, if we are sure of anything, is that we take every measure to ensure the tranquility and comfort of our customers. In order to carry out this exhaustive work challenge, we have created different types of winter storage plans for your vessels. All this so that you only have to worry about where you want to be, and at the same time, be very calm and safe.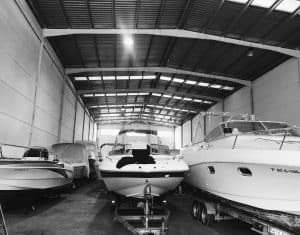 In our "extra" marine plan (which goes beyond dry docking), our role starts from the moment our client willingly says "goodbye" to their holiday or sailing season. At this moment we will take care of: raising your boat (with our own professional transport) and taking it to our facilities where a specialized team will take care of it:
Overhaul motors with fresh water
Lubricate with winter storage oil
-Protect with anticorrosive treatment
-Lubrication of all vital points
-Emptying of fresh water tanks
-Grey water tank emptying
-General revision of all electrical and electronic systems
-Cooling systems
-Cabullería
-Upholstery condition
-Drives (doors and hatches etc..)
-Cleaning, soaping and thorough drying of hulls, windows, tarpaulins, carpets and upholstery.
-Revision and status of technical inspection date
-Revision of fire extinguishers, flares expiration date
At the end of all these works, we will make a general report for the owner about the current state of his boat.
In the winter season we service the engine, tail/shafts and hull etc.
1. We start engines before the new season, recheck all lubrication systems, cooling, lubrication, electrical and electronic components levels, fill water tanks etc.
2. Soaping and total drying of the bilge, boat, canvas, carpets and upholstery, polishing of metals and glass, arrangement and stowage of belongings and accessories.
3. Hull: Painted with antifouling (2 coats)
4. Transport: Transfer back to the port and place of origin, mooring in its mooring point, adjustment of ropes and lashings, placement of fenders, adjustment of canvas, biminis,
5. Service and assistance, We offer to all our customers 24 hours 365 days a day port assistance service as well as we manage any kind of rescue in the most complicated moments. Your happiness is our happiness and having a boat does not have to be synonymous of suffering or having "headaches" but on the contrary… and our experience supports us. Winter storage and boat maintenance on the Costa Blanca (Javea, Denia, Altea, Pedreguer, Alicante…) is now possible and adapted to your needs and budget.
Contact us and we will get back to you as soon as possible.
NAUTICA MARINA ALTA, A PASSION FOR NAUTICAL SERVICES.