To get started in the wonderful world of sailing, there are some aspects to take into account if you start from scratch, or almost from scratch. As for recreational motorboats, it is common to start with boats between 5 and 6 meters in length, which can be carried with the Licencia de Navegación, the old titulín.
Therefore, we leave you here three ideal boats that from our point of view are ideal to start, taking into account that in less than 6 meters have a capacity on board up to 8 people to spend the day with your family and / or friends and at the same time a spaciousness and comfort that leave no one indifferent. In addition, they have outboard engines and these boats are manufactured in Spain:
Astilux 600 Open: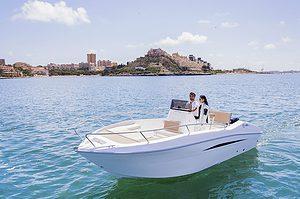 As its name suggests, it is an open boat to have fun in its spectacular cockpit. This elegant 5.98-meter model is designed with special attention to detail. Fast and sporty boat. Perfect for practicing your favorite water sports or spending a day with friends. Elegance, Practicality and Action for your sailing days.
Kattleya X6 open:
Also an open model, this technologically advanced boat, with enviable seaworthiness and everything you have always dreamed of in a boat. Designed to be enjoyed with family or friends thanks to its ample deck space, maximum safety on board and a unique sundeck at bow and stern in its category where you can sail fast and safe in navigation.
Astilux 600 SD:
A different concept of boat, this one is Sun Deck, but it has an open deck type "Open". Also with a Walk Around that goes to its large sundeck at the bow and at the same time interior space for stowage. This model is suitable for all those who require more room to store their things and even change, as it has a WC. Spaciousness, Style and Personality for your sailing days.
All these are new boats and as we have said, also new outboard engine from 115 to 150 hp and to choose from several brands that you can find in Nautica Marina Alta. However, we will advise you in the best way for you to be satisfied with what you are really looking for. On the other hand, for those who prefer a second-hand boat, we also have second-hand boats of less than 6 meters in both inboard and outboard engines. With our new exhibition, we have a spectacular showroom to make the shopping experience the best.